COVID-19 - Safety instructions
Agile Training Card from bTalks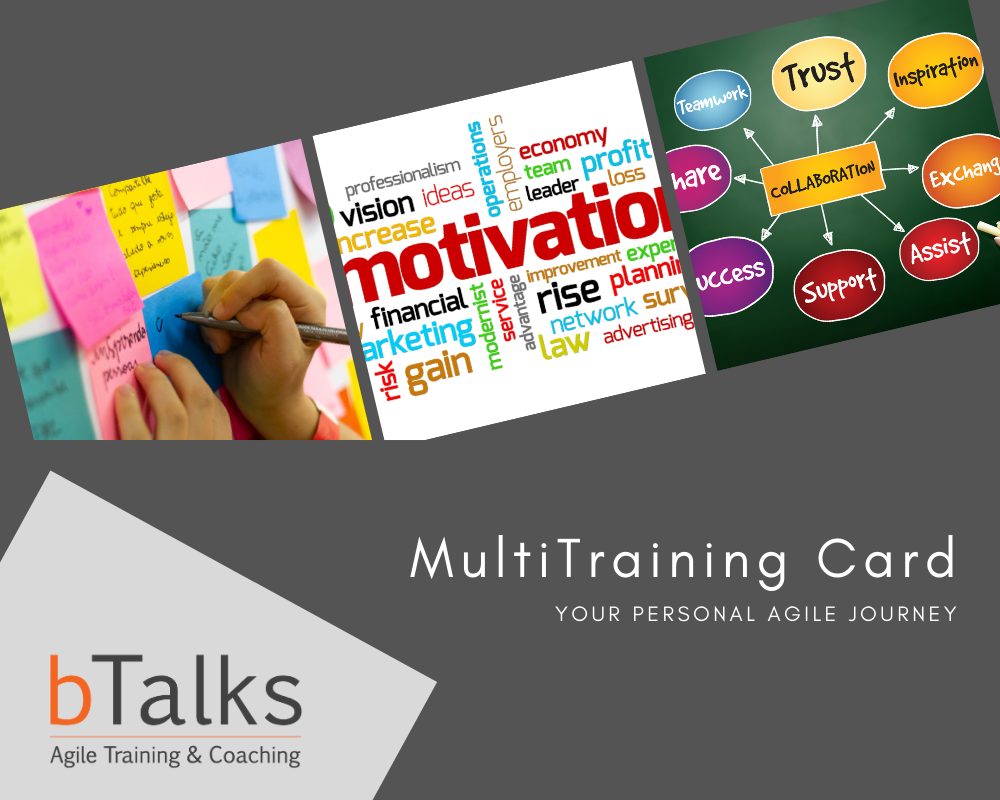 Искате ли да можете на практика да имплементирате и подобрите Agile средата и процесите в своята организация?
За успешната имплементация на Agile е нужна комбинация от правилна нагласа, начин на мислене и добро познаване на техники и инструменти, които да приложите на практика. Тези два аспекта са абсолютно свързани и изискват време, за да можете да ги развиете.
Убедихме се, че еднократните обучения са неефективни в дългосрочен план. Чутото остава като далечно ехо и бързо бива забравено. Точно затова създадохме дългосрочна програма с фокус Agile, която е съобразена с индивидуалните нужди, ниво на знание и път, по който всеки индивидуално иска да се развива.
С MultiTraining Card имате възможност да се обучвате между 6 месеца и една година, да практикувате, да споделяте, да питате и да се развивате.
Learning Center
We wanted to create a space to connect people who want to know more and to practice Agile. Every one of us has different experience, has made their own mistakes and learned different lessons. At our training center, we organise events for people practicing Agile where we could share our successes and failures and to exchange knowledge. Entrance is free for attendees and speakers. If you'd like to become a speaker and share your experience, get in touch with us at [email protected]
It was a pleasure for us to attend some of the trainings led by Tedi. They helped us to adjust our watches, to understand whether we organize our teamwork correctly and efficiently, as well as to make the appropriate changes in the direction of improving our internal processes.

"
Ralitsa Trayanova
— Team Lead Functional Design, SmartIT
Extremely well-prepared content, presented in an interesting and comprehensible way. Nice environment, engaging and positive mood. An exceptional trainer.

"
Vladimir Yordanov
— CTO, Flat Rock Technology
The training was very smooth and pleasant. The content was presented in a comprehensible way, the terminology was explained in depth. I really liked the practical tasks and the comparison with real life projects.

"
Magdalena Kutleva
— Project Manager, Mnemonica
I liked the most the illustrations from real life situations at work. The extensive experience of the speaker became most evident in the practical examples and the answers of the questions.

"
Denis Marinov
— Web Developer, Flat Rock Technology
The clarity, the real life examples and the lively discussion are the highlights of the training. The friendly environment and the personal communication between the trainer and the attendees kept our attention and was definitely thought provoking.

"
Elena Miteva
— Business Development Manager, Flat Rock Technology
The content was tailored to the level of the participants and their daily responsibilities. The practical examples and tasks, featured in the course, are very useful in the process of understanding and getting familiar with the information.

"
Subscribe for Our Upcoming Events
Stay up-to-date with our upcoming Agile courses and free Agile meetups.
This site uses cookies for analytical purposes, personalised content, and ads. If you continue to view it, you agree with the use of cookies.